Are your writers focused on the right stories this week?
With Parse.ly Analytics, they will be.
Media professionals rely on Parse.ly Analytics, part of WordPress VIP
Managing an editorial team is hard without visibility into how they're performing, and how their stories are resonating with readers. Parse.ly can help everyone pull in the same direction by giving managers, journalists, editors, writers, and authors quick access to easy-to-use data analytics.
They'll save time understanding the impact their stories have, make smarter publishing decisions, and prove the value their content has to the business.
Let data guide your
content creators
Make data-driven content decision-making the norm
Track the right
content metrics
Know what content your readers really respond to
React fast to breaking news
and events
Beat the competition to capture reader attention
Get personal with
your audience
Know what works for different reader segments and GEOs
Prove content RETURN
ON INVESTMENT
Showcase the value of what you publish to the business
let data guide your content creators
Make it easy for editorial teams to understand how their stories are performing
In today's digital newsroom, content efforts that aren't guided by data are often ineffective and fall flat with readers. Parse.ly helps even non-analysts make data-driven decisions about what to write about without having to wade through hard-to-use analytics platforms like Google Analytics for answers.
"… you can spend just 10 minutes of training with Parse.ly and get the basics of how to use it. For our journalists, Parse.ly can quickly surface insights. [It's also] powerful enough to be a serious contender in heavy-hitting data-crunching and analysis."

— Josh Awtry, Vice President for Content Strategy, Gannett

Track the right content metrics
Help journalists understand how readers engage with your brand across channels
By tracking and reporting on important metrics like how long readers interact with your content (engaged time) and where they click next after reading an article (recirculation rate), Parse.ly Analytics helps you create a more engaging digital experience for new and returning visitors.
"[Parse.ly's] engaged time [metric]… aligns the priorities of readers, advertisers, and our editorial team. If readers spend more time with content that they value, they'll be more likely to view more ads while they're reading, share our content, and join our membership program."

— David Stern, Director of Product Development, Slate
React fast to breaking news and events
Take advantage of breaking news to grab and hold readers' attention
When big news and world-shaking events happen, Parse.ly's real-time data and alerts make it a breeze for editors and authors to react fast to what's trending—in minutes, not hours or days—before audiences go elsewhere for the latest.
"I use Parse.ly every day at my job. It helps articulate in real-time the traffic on a website that needs to deliver information to its users as fast as possible. I monitor and use the software/website constantly throughout my entire day. I personally use it for a website that sees millions of users every month."

—Social media strategist, broadcast media company
Get personal with your audience
Gain a deeper understanding of the audiences who read your content
The content you create will always be more effective and resonate better with readers when it's personal, no matter where they are. Parse.ly makes it easy for content creators to break down what works and what doesn't work for different reader groups, customer segments, and GEOs.
"We were able to look at the geo-segmentation and decide what stories are resonating, so we could pitch them or promote them. The ability to break things down by region—especially when cross-referenced against Parse.ly's range of metric-users, engaged time, social referrals and interactions—is priceless."

—Katie Boyce, Managing Editor of Digital, Bloomberg
Prove content ROI
Go beyond pageviews to report on how well your content is performing
Parse.ly knows pageviews are old news when it comes to proving how well your content is performing with readers or justifying investment in your editorial team. Metrics like engaged time, recirculation rate, and conversions tell a much more compelling story.
"We've reduced the time to identify trending content that is driving meaningful conversions—we can promote and boost days ahead of when we could do it previously. This has led to a 20% improvement in conversions. Conversion data in Parse.ly also enables us to quickly identify when content ceases to be performative—we save 5-10% of spend by being able to rapidly identify content that is losing steam."

—David Grossman, Chief Marketing Officer, Backstage
For years, journalists, writers, and editors have lived by certain rules—rules that made sense when all of their work was published in print form in a newspaper, magazine, guide or book. But those rules have shifted, and now you need to know what will create success in the digital age.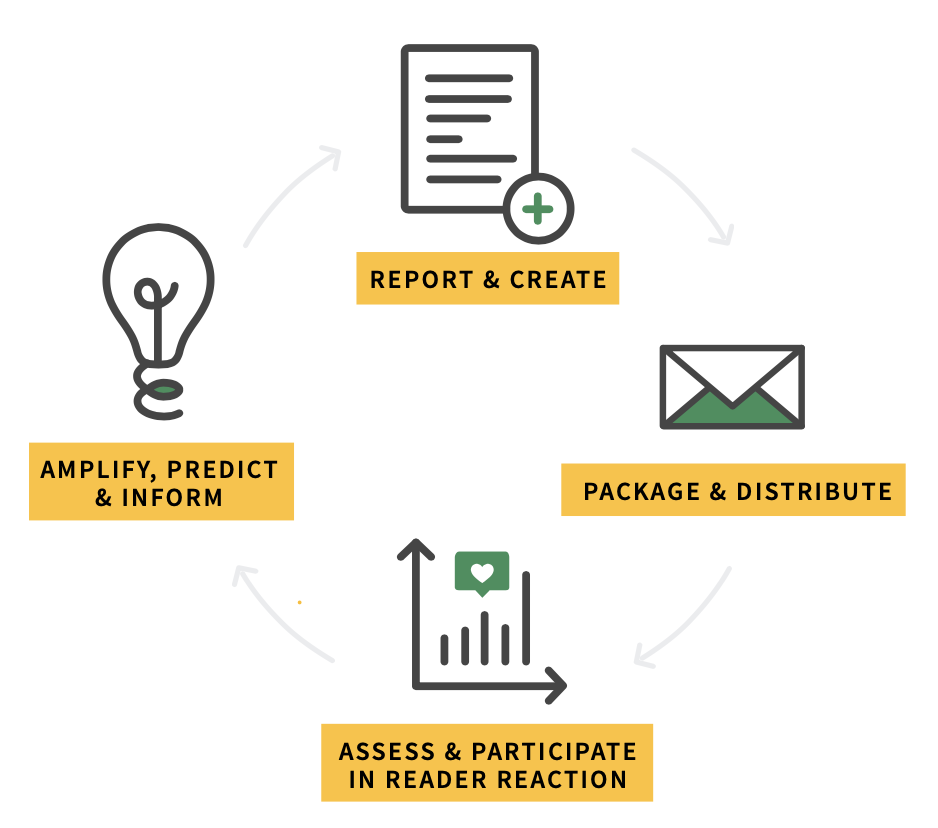 focus your team on the right stories
Learn how Parse.ly insights helped UK-based media gaming company Network N increase ad revenue 75%.
Let data guide content creators
Learn how to make content analytics a real team effort for writers, journalists and marketers.
Track the right content metrics
From visitors to source referral, learn the five important metrics that add meaning and context to pageviews.
React fast to breaking news and events
Learn the impact to editorial teams of the sunsetting of Universal Analytics and the switch to Google Analytics 4.
Get personal with audiences
Learn three ways to use audience segmentation to fine-tune your content strategy.
Prove content return on investment
Even if Google Analytics is free, learn why its complexity is costing you when trying to prove the value of content.
Contact us
Request a Parse.ly demo