Content Marketing ROI
Can you prove your content is valuable?
Content Conversions empowers you to maximize the impact of your work. Forget random acts of marketing—and say hello to content-driven growth. Show your boss that content inspires action in a few clicks.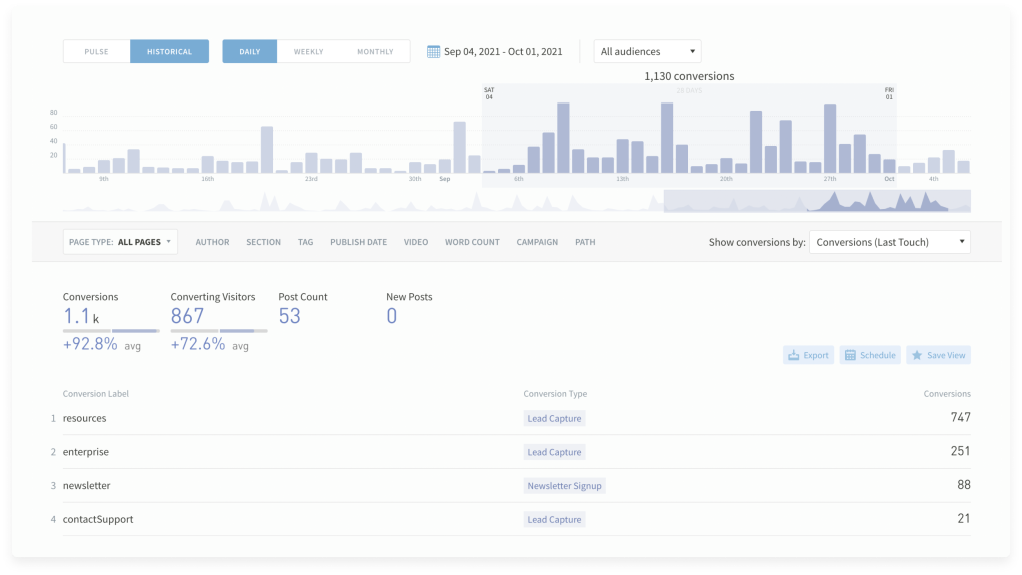 Our customers get results
+105%
paying subscribers
+300%
recirculation
+400%
daily newsletter subscribers
Act on your own success
Newsrooms and content teams act on fast-twitch muscle, responding to what's trending and capitalizing on that. Page views are fantastic, but you need more to tell the whole story.
Content Conversions gives you quick updates on data that's closer to the high-value actions that drive your business forward. Empower yourself to move quickly on the information that allows you to seize momentum.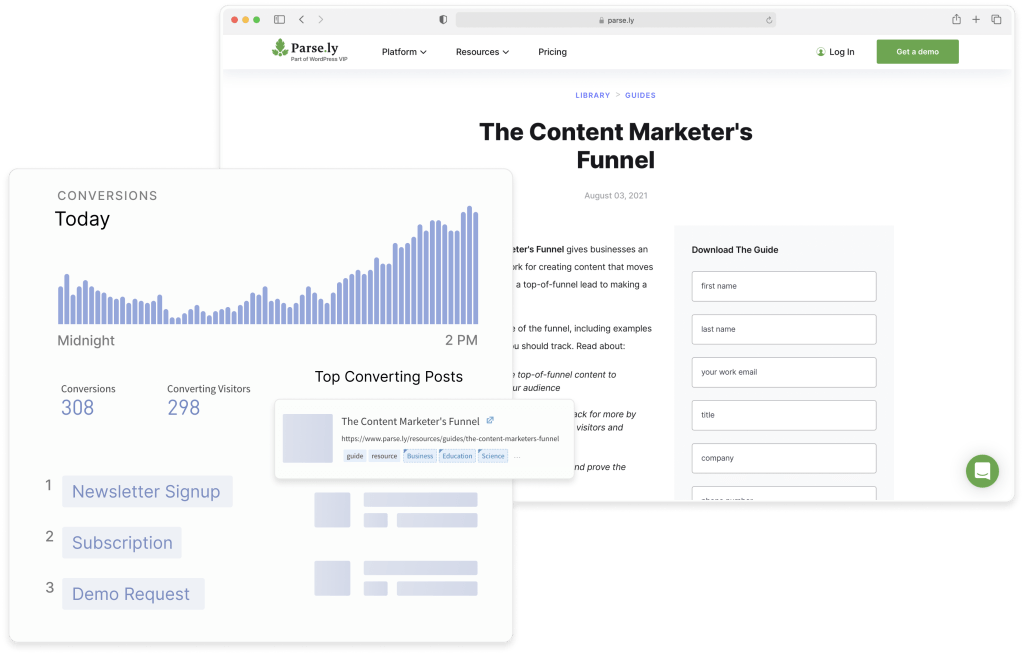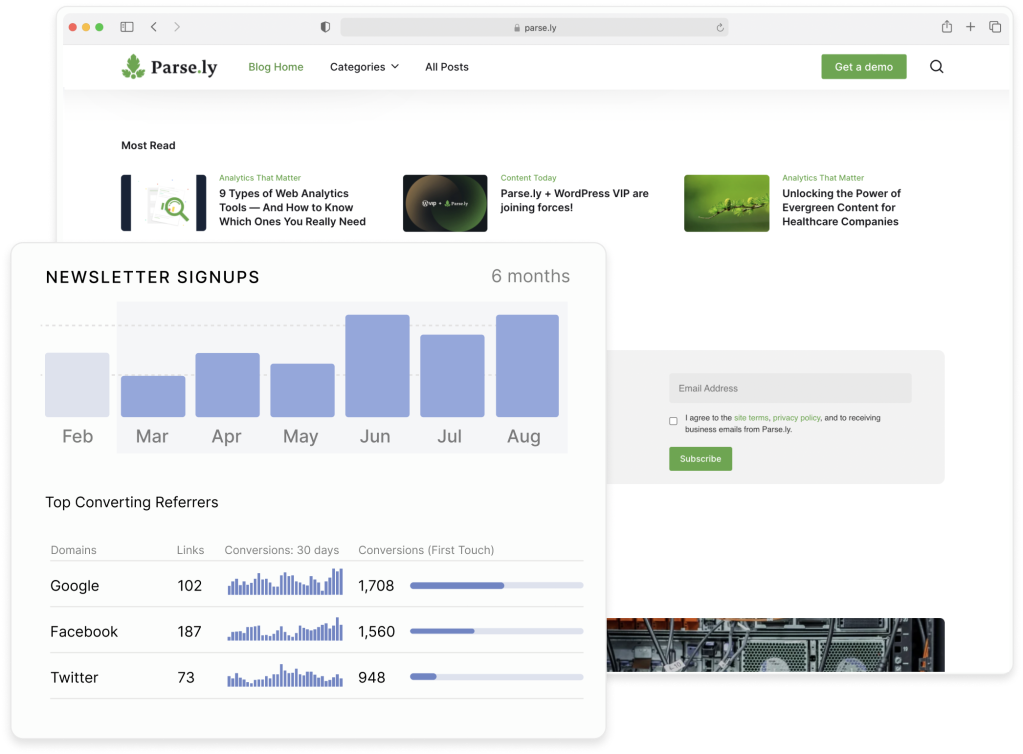 Create content that works
Whether you're leading a team or a member of one, Content Conversions makes it easy for you and everyone else to see what content is driving results.

Tie your content strategy to key business KPIs.
Content attribution doesn't need to be hard
Our Content Conversions is easy to start using in just a few minutes. It's also built with the flexibility to allow you to dive deep into what drives results.
Flexible events
Choose from a broad range of pre-built conversion types such as newsletter signups, purchases, and referral links—or use your own custom events.
Multiple attribution models
Whether you want to give credit to what first impacted a reader, the last page accessed before converting, or every page in between—we've got you covered.
Ready to see Content Conversions in action?
Join thousands of editors and content marketers who use Parse.ly every day.
Frequently asked questions
What is the ROI of content marketing?
Content marketing ROI is a percentage that shows how much revenue you earned from your content program divided by what you spent.

Measuring all the ways content creates value for your business is the most important part—and there are many ways that it does. This could mean driving leads, selling products, advertisement revenue, or many other avenues. Keep in mind the lifetime value of a customer, and all the ways your content builds loyalty in your customer base.

Attribution can be tricky. Setting up a flexible, comprehensive tool like Parse.ly to track and attribute content interactions makes it easy for your team to understand the true value of your content.

Then you measure all the ways your business spends money to make your content program happen. These will include technology, salaries, partner fees, ad spend, and more.

Return on investment is the single most important measure of successful content marketing. Parse.ly helps you make your content programs data-driven, so you can make sure they have maximum impact and generate high ROI.
What is a good ROI percentage for marketing?
The general rule of thumb for marketing ROI is typically a 5:1 ratio. The most important thing is to understand how to create engaging content that motivates your readers to take the kinds of actions that generate a return for your business. Measuring content ROI with Parse.ly is one of the best ways to learn how much value you bring to the table.
How do you track the ROI of content marketing?
While tracking the ROI of content marketing can seem like a daunting task with multiple metrics and numbers, you can avoid getting lost in the forest of data by first identifying what actions move your business forward. There are many different types of these content interactions that contribute to your business. Some are large, like the purchase of a product, while others might be smaller, like signing up for a free newsletter.

Identifying, tracking, and then using this conversion data to inform your decision-making is a key part of running a successful content program, making it easy for your team to do that comes down to having the right tools in place.

Parse.ly allows you to track your content marketing ROI and generate insights that demonstrate your success. Choose from built-in conversions types such as newsletter signups, purchases, and referral links, or create your own to tie content strategy to key business KPIs. Easily respond to what's trending and do more of what works.
What metrics are used to measure content marketing ROI?
The most common metrics used to measure content marketing ROI are newsletter sign-ups, subscription trial sign-ups, demo requests, white paper downloads, or purchases.

While the best way to measure conversion actions entirely depends on your business, it is NOT all about vanity metrics like Twitter followers or email open rates. While these metrics can help add more color to the story of your users' journey, they are less directly tied to revenue generating events.

Parse.ly gives you quick updates on data that are closer to the high-value actions that drive your business forward, whether it is by ad impressions, sign-ups for a paid subscription, purchases, or clicking referral links. The easy-to-use dashboard allows marketers to understand which content resonates and moves your business forward.
Is content marketing valuable?
Whether or not content marketing is valuable for your business depends on how your business creates and retains customers. At some level, nearly all businesses have content—for example, a website.

Many businesses have found that digitally interacting with their potential and existing customers leads to improvements in customer perception, acquisition, retention, and overall satisfaction.

These content programs can be incredibly sophisticated, with thousands of pieces of content, and many engagement channels—or they can be barebones and straightforward. What matters is that the content program is set up in a way that contributes to both the lives of their customers and tot the business in some way.

The most successful programs are two fold:

– First, they crate content that prospects and customers would be interested in regardless of whether they are interested in your business.
– Second, they structure their digital experiences in such a way that simply being interested in and interacting with their content leads to revenue generating or retaining events for the business.

With Parse.ly you can truly see what content is working for you, without getting lost in the data. Thanks to this easy data access, teams can enact a more data-driven content strategy, proving the value of content to the greater organization.