GDPR-Friendly Content Analytics for Publishers
Parse.ly is the GDPR-Friendly Analytics for Your Content
Analytics on your web content are necessary for media organizations and marketing teams, but only some of them meet your needs for both compliance and functionality. Here's why businesses that need to be compliant with GDPR, CCPA and other data privacy laws choose Parse.ly:
Data privacy: Parse.ly processes a very limited amount of Personal Information and includes a feature allowing for the anonymization of IP addresses collected from visitors to monitored domains and applications.
Usability: Our dashboard is easy for writers, editors, marketers, and others to use, meaning that your team increases data-driven decision-making by 400+ %.
Real-time: We provide instant updates to your data, so you can take advantage of any spikes in attention.
Beyond vanity metrics: We tie your audience engagement with the metrics that make a difference to your business, so you can go beyond page views.
Get a demo of Parse.ly analytics
Companies using Parse.ly every day
Learn more about our data privacy best practices
Outside of data privacy standards, Parse.ly tops Google Analytics when it comes to providing valuable tools and insights for content teams. Learn how we're different.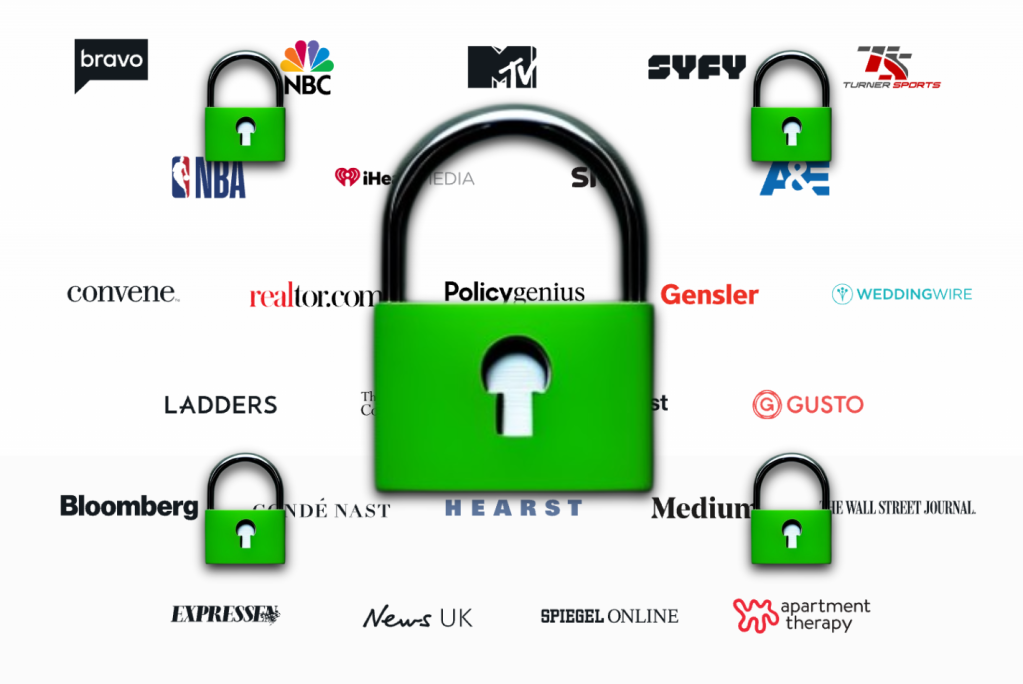 Parse.ly makes data easy for editorial teams, giving them the insights they need to grow audiences, improve loyalty, and drive monetization.
Make data easy and actionable for everyone, not just analysts
Clunky web analytics and BI tools create a high barrier-to-entry for editorial teams. Parse.ly's user-friendly interface empowers writers, editors, digital strategists, and nearly everyone at your organization to use insights from content data in their every-day decision-making.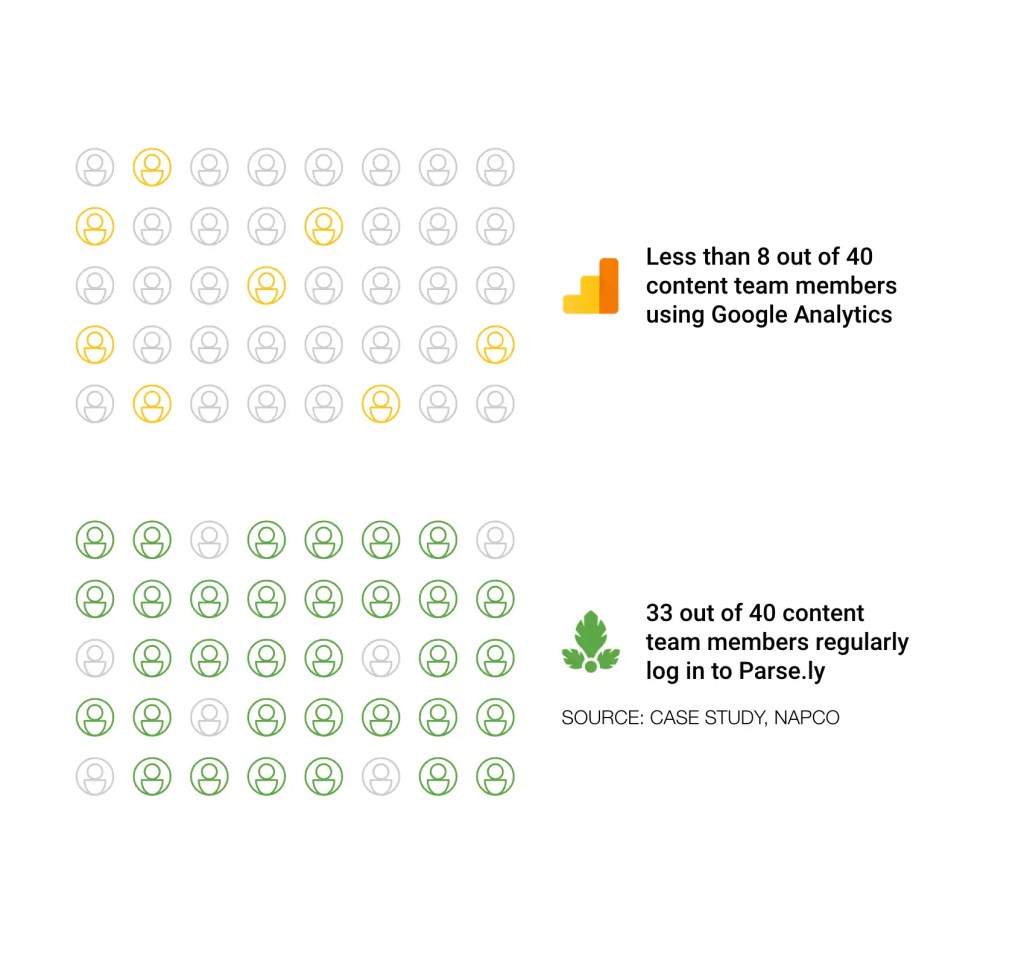 Gain real-time and historical insight into what resonates with your audience
Many teams are flying blind, relying on instinct alone to guide content ideas. Parse.ly provides a real-time and historical view of how your content resonates with your audience so you can create more engaging, impactful digital experiences. Find tactics to improve search, social, engagement, recirculation, subscriptions, and loyalty.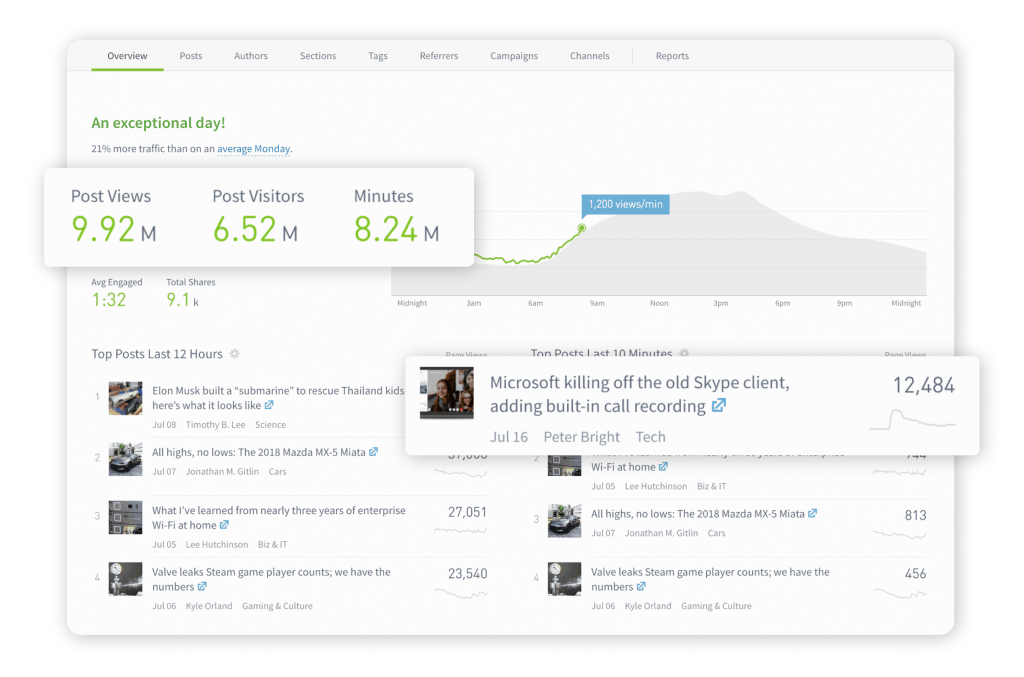 Transcend vanity metrics to tie content strategy back to real business results
Even teams who do incorporate data into their decision-making often focus on spikes in surface-level vanity metrics. Parse.ly helps you take a more proactive approach by tracking and optimizing for metrics that link content performance directly back to the long-term results that executives actually care about, like driving more subscriptions by identifying which stories create loyal readers.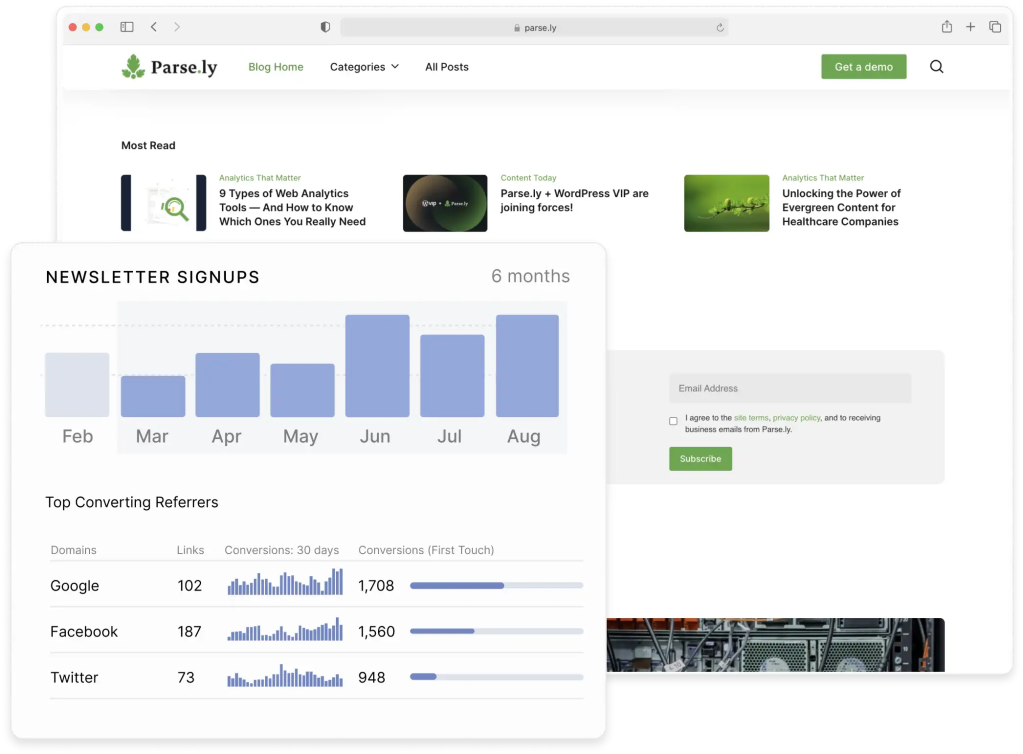 Create a stickier experience with personalized content recommendations
Personalized user experiences drive deeper engagement and stronger loyalty, but creating them requires development resources that not every team can spare. Parse.ly's content recommendation API does this work for you, automatically measuring your content archive and creating sticky, personalized content experiences immediately upon integration.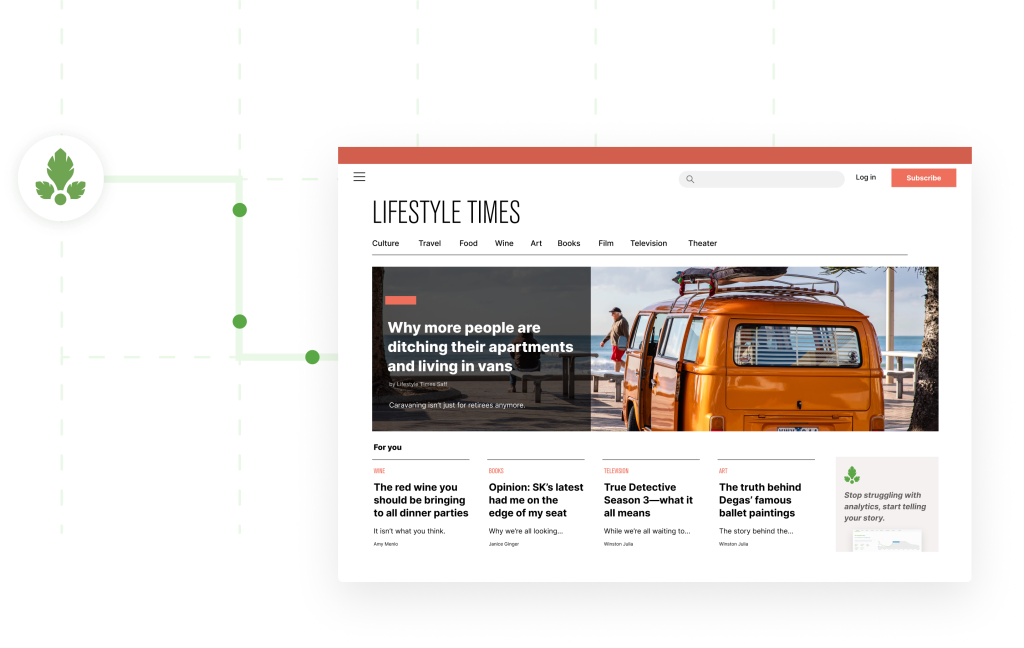 Content Matters: AI Trends 2023 Report

Explore what 1,500+ marketers and content creators told us: how often and how they're using AI, and how much they're budgeting for their AI toolkits.