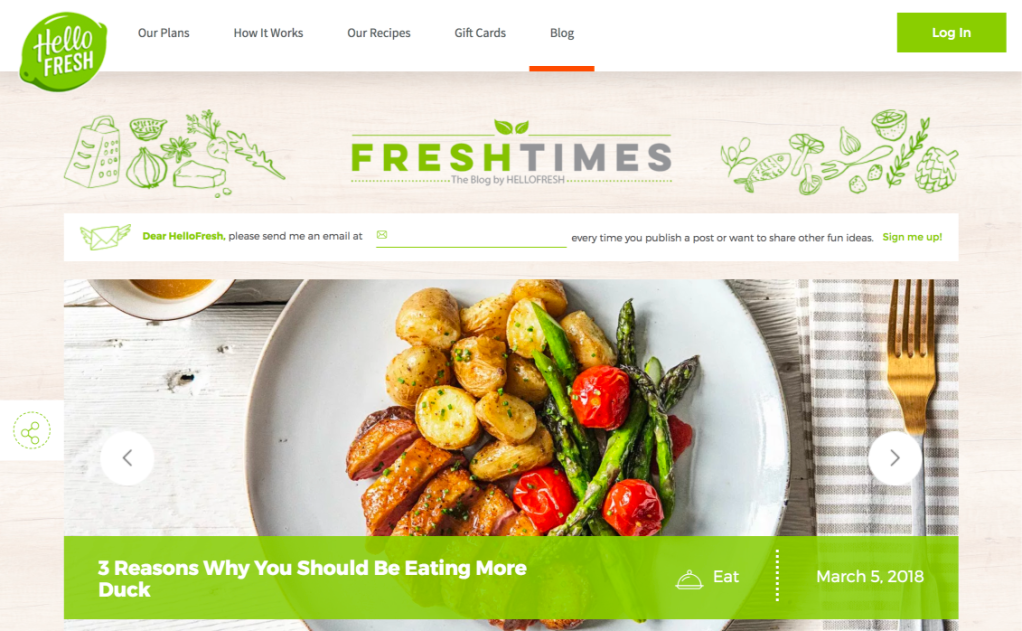 This meal kit company uses content to get customers excited well before they hit the preheat button.
Results
65% more Page Views
122% more organic search traffic
2 hours per week saved on reporting
There are over 150 meal kit companies in the United States alone, according to Inc Magazine. In a market this saturated, brands need a way to prove they're worth their salt. For global meal kit provider HelloFresh, content helps encourage home cooks to turn the dread of meal prep into an enjoyable evening routine.
With recipes, tips, quizzes, and a newsletter, their blog FreshTimes creates an entire experience around dinnertime that gets customers excited well before they hit the preheat button. Content offers a way for HelloFresh to foster a unique and differentiated brand identity.
"Although meal kits have subtle differences, ultimately they offer a comparable product," said HelloFresh copywriter Jacqueline Parisi. "The task at hand isn't to convince people to use meal kits; it's to get them to use HelloFresh."
However, in order to convince people to use HelloFresh, the team needed to understand how their messaging resonated with people. Parisi said, "Without content and a very intimate understanding of our customers, I'm not sure we'd be able to curate this experience that fosters habitual actions, which are our lifeline as a subscription service."
With Parse.ly, HelloFresh has access to the audience data they need to value and understand their customers.
Ending their unhealthy relationship with vanity metrics
Before Parse.ly, HelloFresh's content team used Google Analytics, but they found it tricky to gauge what initiatives were working. "It was cumbersome to dive into the depths of the Google Analytics world to find insights worth sharing or acting upon, so data got deprioritized," said Parisi. "We were operating fairly blindly."
Parisi's team were content machines, pushing out blog post after blog post with no data available. "As we developed into a brand within the food space, that had to change," she said.
Parse.ly's straightforward analytics dashboard has helped HelloFresh discard vanity metrics—they ended their obsessive "unhealthy relationship with bounce rate"—in favor of content KPIs that align with business goals.
Parisi said, "With Parse.ly, we have a renewed focus on data that is actionable, and we're not measuring just to measure. We're reporting on key metrics that dictate what content we publish in the future, how we publish it, and how it's distributed."
HelloFresh's new metrics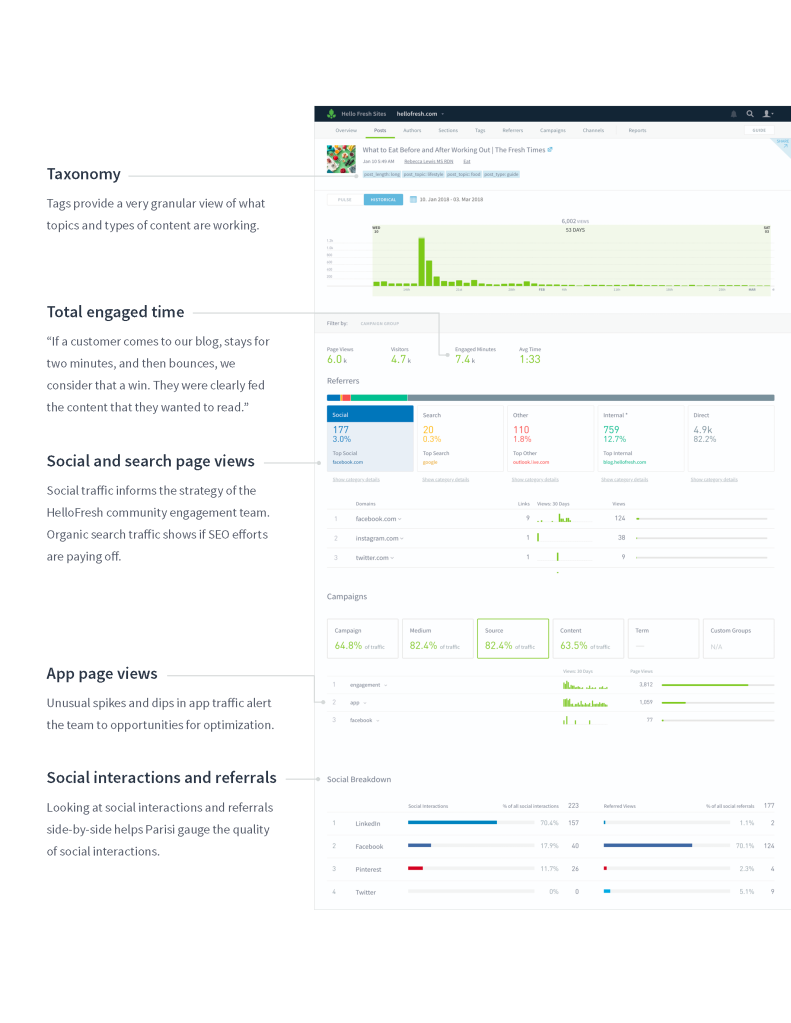 "Aha moments" that shaped HelloFresh's content strategy
Where the HelloFresh team could only make assumptions before, seeing the numbers in Parse.ly has caused them to rethink strategy and where they invest their time and resources.
Parisi shares some of these "aha moments" below:
Related content is crucial
"When we realized we could see where readers go after they finished reading a post, in real time, it was an 'aha moment.' Parse.ly emphasized to us how important the related content section was. More readers than we expected were interacting with it. That renewed our focus on ensuring our best content lives there."
Seeing what readers read next…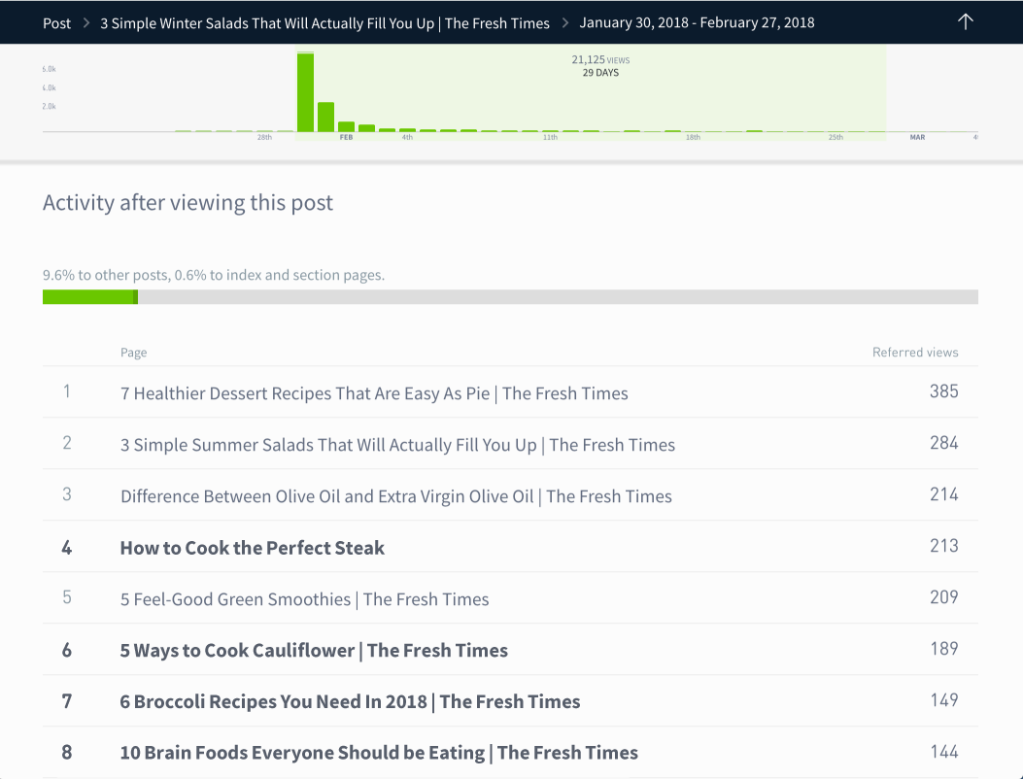 …made HelloFresh pay attention to the related content section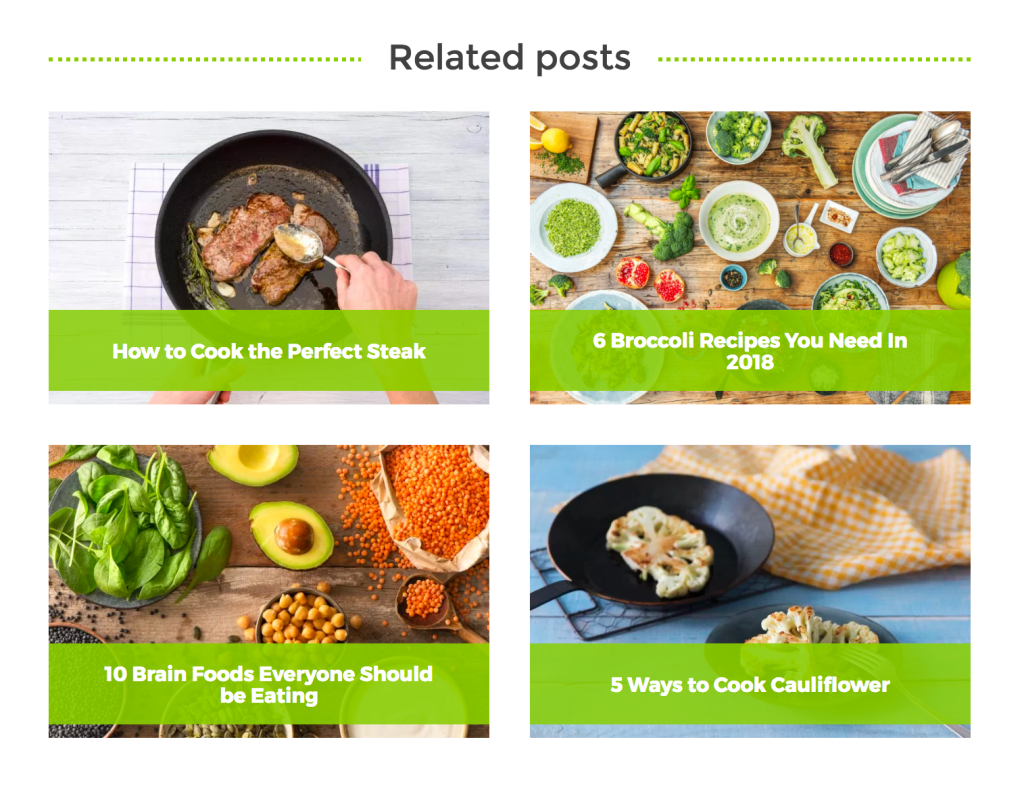 Videos? Not so much
"Before we had Parse.ly, we thought video equated to higher time on page. We thought that was a foolproof equation, but that's not always the case. Now, we're rethinking our video strategy: what role video plays on the blog, how frequently we should embed videos, and where they should live in the post."
Validating ideas and the value of content
The HelloFresh team was hungry to innovate, but they couldn't tell if an experiment was worth their investment with zero audience data. Now the team is better equipped to try new things, knowing that they'll be able to see the impact of their work in the Parse.ly dashboard.
Discovering success on LinkedIn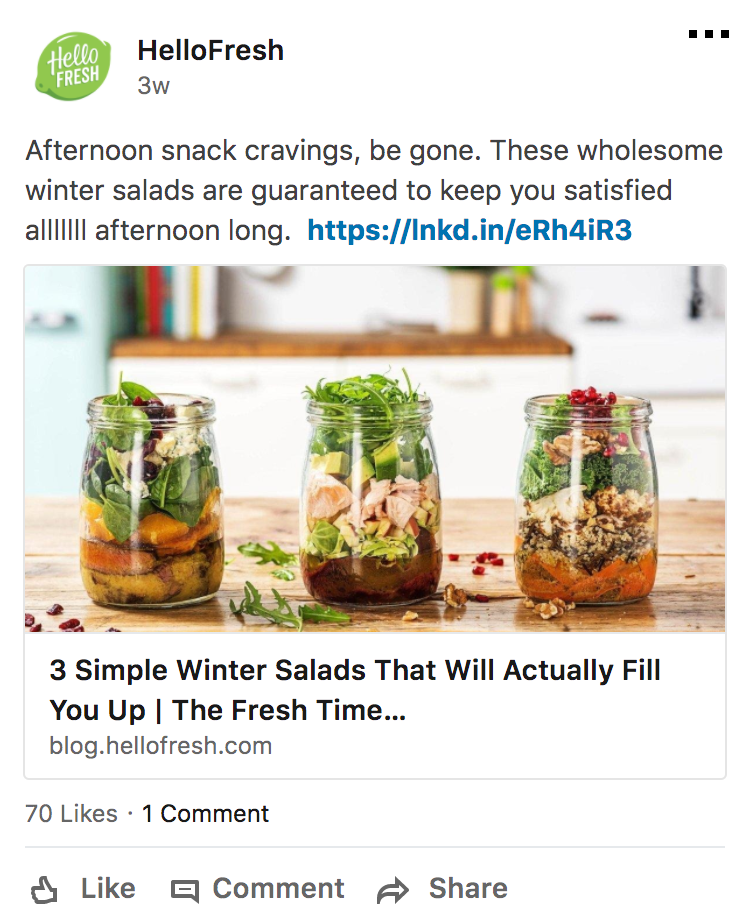 Parisi and her team got the green light to push a couple blog posts to HelloFresh's global LinkedIn page. Parisi took a blog post promoting a mason jar salad recipe and tailored it to a more business-centric audience with copy such as, "Goodbye sad desk lunches. You'll be the envy of your coworkers with this perfectly portable mason jar salad."
Parisi was pleasantly surprised when she looked at Parse.ly and saw a good amount of traffic come in from those LinkedIn posts. Because of that, every month her team promotes and pushes two blog posts to LinkedIn.
Integrating content into the app experience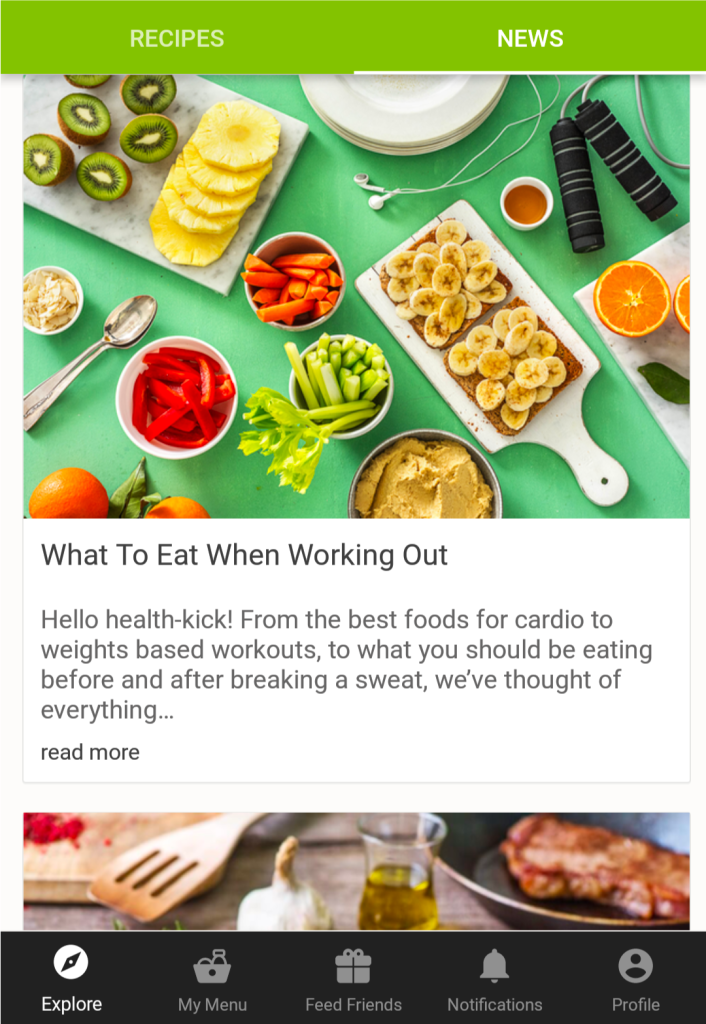 Customers primarily use the HelloFresh app to select their next week of meals, but the company wanted them to dwell in the app longer. "We knew we had to draw them in beyond just looking at recipes, so we started promoting blog content in the News section of the app," said Parisi.
HelloFresh tracks app traffic to the blog using UTM parameters. Every time they publish a blog post, they immediately push it to the app and monitor its performance in the Parse.ly dashboard. "We've seen increasing traffic coming in from the app," said Parisi. "That's a sign that our customers are engaged with us on multiple platforms and they're interested in this added value content that extends beyond the 'in-box' experience. It's been illuminating for us."
Proving content's worth to the whole company
Parisi's team doesn't just use Parse.ly to validate ideas; they use it to prove the value of their work to the rest of HelloFresh's employees.
"Last year, even if we had a feeling or an inkling that something performed well, there weren't numbers to substantiate that," Parisi said. "Parse.ly proves our team's worth and the value of content by giving us numbers to validate what we do every day. It has made a big difference in helping other people in the company see how the blog and our work moves the business forward."