Content Analytics for Marketers
Create content that works
Marketers today are responsible for growing both customer relationships and revenue—and content is how they do it.
Parse.ly's content analytics empowers marketers to predictably plan for and deliver the results the business needs from their content strategy.
Get a demo of Parse.ly Analytics
Our customers get results
+25%
revenue attributable to content marketing
+122%
improvement with organic search traffic
+50%
of all employees using content analytics
Align content strategy with business goals
Your customers will tell you what they're thinking when they interact with your content—if you have the tools to hear them.
Know your customers better than your competitors ever could, and create content that serves your business at every stage of your customer relationships.
---
Easily track the conversion event for each significant moment you want to create
Multi-touch attribution reveals the impact of your content across full customer journeys
Test and iterate with real-time data, so you can scale what works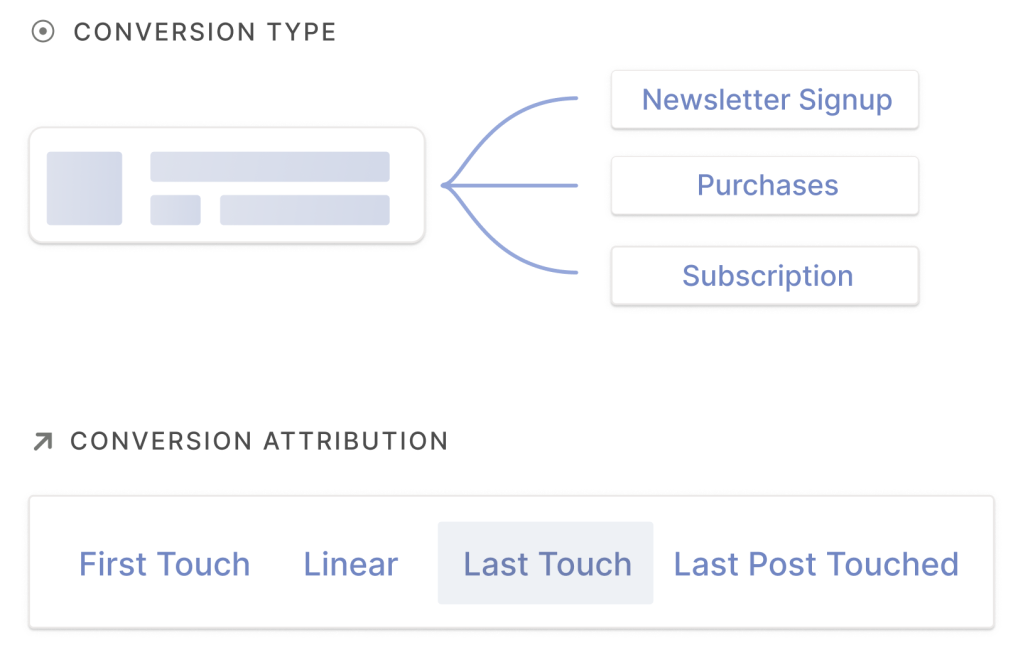 Understand performance and prove ROI
Get the numbers you need to prove results, and increase investment into your content program. Parse.ly makes it easy to get the info you need, whether it's for a five-minute conversation or for a quarterly strategy review.
---
Get at-a-glance views of your KPIs, and then dive deep into audience segments, topic tags, campaigns, authors, referrers, and more.
Assess your content across all your channels, including mobile apps.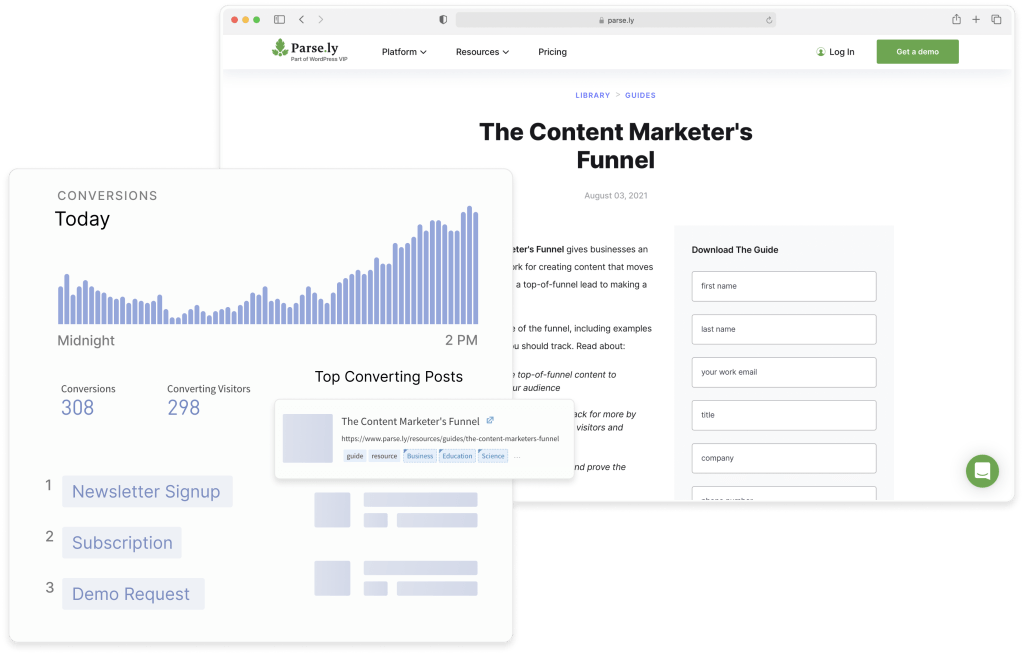 Make proof part of everyone's process
It's a fact: someone else's anecdotal "good ideas" are unfortunately the number one source of new content suggestions. This isn't a solid foundation for content strategy.
With other analytics tools, your creators need to ask analysts for the numbers to prove content ideas. That takes time you don't have, and decisions are made based on gut—because getting data is hard.
Because Parse.ly is made for content marketers, everyone can get the answers themselves. There's no barrier to entry. You move faster, and your whole organization becomes data-driven.
---
Easy, intuitive dashboards
Powerful automated reporting and Slack alerts
Plugged into your CMS—look at stats on content, not on endless unintelligible URLs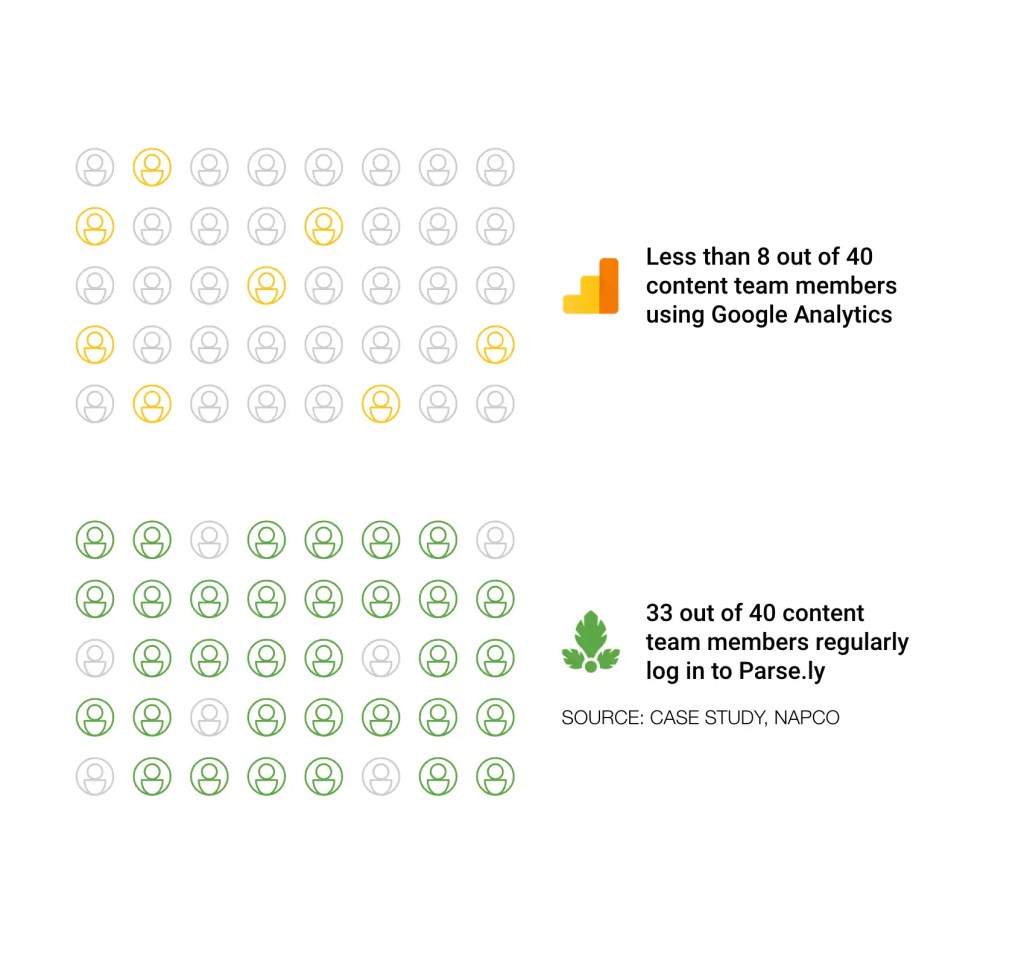 WHAT CUSTOMERS ARE SAYING
I am gaining a lot of insight into what works in search and what doesn't. I like how quickly you can pull together information from Parse.ly You quickly see how well your posts are doing, and why they're doing well. I like how you can tell where referral traffic is coming from in a concise way.

Jonathan Tully
Lead Producer, Gannett
Data-phobia is a real problem for a lot of teams. You need the tool that really will eliminate that fear and make data-driven insights accessible for everyone. The fact is, most analytics platforms are not made for writers, and they're intimidating. Parse.ly is the tool that makes it fun, simple, easy, and not scary to get data—you want to start using it on a daily basis.

David Grossman
Chief Marketing Officer, Backstage
We chose Parse.ly because it's so user-friendly, especially for an editor who wants to be able to report on how their content is doing right away. Giving the team Parse.ly empowered them to become more analytics-driven.

Morgan Gibson
Senior Manager of Digital Content, Wedding Wire
Companies using Parse.ly every day
Ready to win more with your content?
Join thousands of editors and content marketers who use Parse.ly every day.