Content Analytics Dashboard
Better, smarter content strategy
Measure and optimize the impact of your content from first touch to last touch and everything in between—without needing a dedicated data analyst by your side.
Our customers get results
122%
organic search traffic
+400%
subscribers
+75%
revenue growth
+20%
conversions
Make data easy
Bring data to the daily habits of the creation process. Parse.ly's intuitive dashboard presents content performance insights in terms that writers, marketers, and executives understand.
---
Analyze your content by topics with Tags
Easily segment data by Authors
Pull in your UTMs to track Campaigns
Compare performance by Channel
Focus content strategy
Stop optimizing for high-click, low-value audiences. Use advanced metrics beyond the page view in order to understand the true outcomes of your content.
---
Use Historical Data to understand content trends
Use the Linear Conversion Model to see what content performs in the middle of the funnel
See how long customers actually spend reading your content with Engaged Time
Nuance the data on reader loyalty with Audience Segmentation
Easily compare the "before and after" impact of your efforts using Comparisons
Understand what content keeps people on your site, and where they click next with Recirculation Rate
Prove content ROI
Make it easy to prove the ROI of content to the business, so you can build a predictable revenue engine with your team.
---
Use ready-made or custom Reports to show the value of your content
Leverage Benchmarks to quickly reference content performance
Goals puts your top-level KPIs in one easy-to-view location
Share your data with people outside your organization with Shareable Links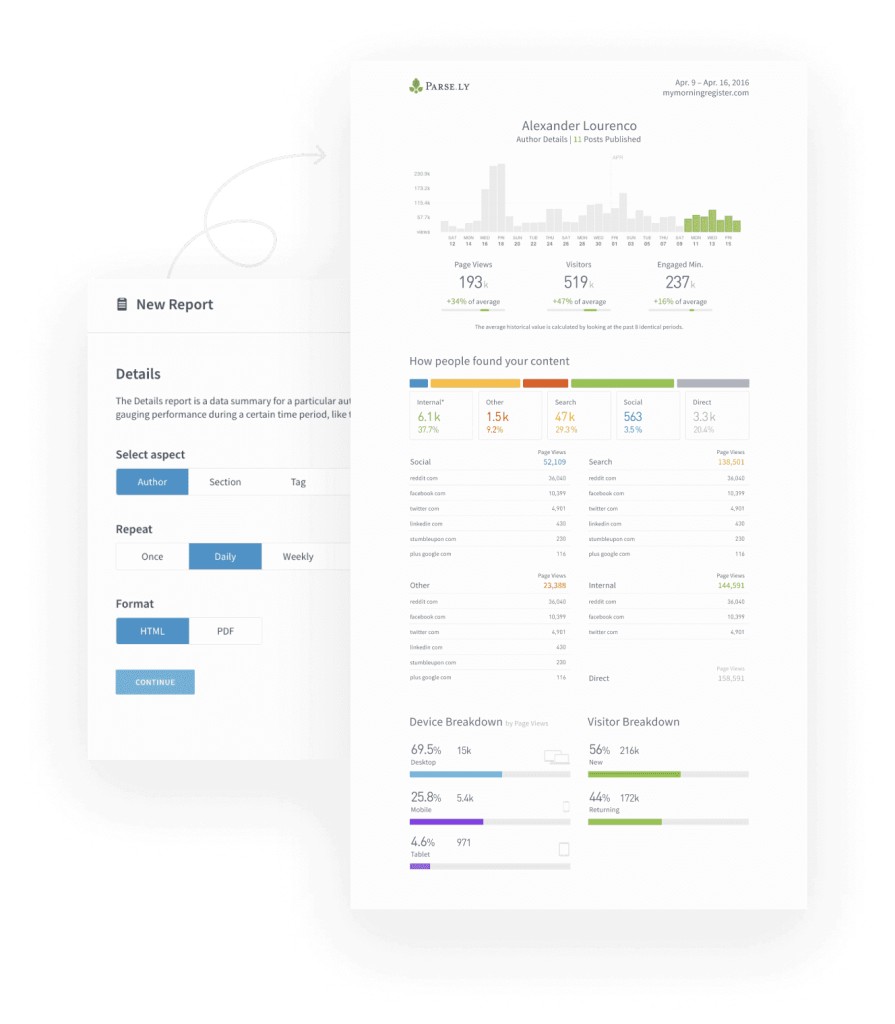 Ready to see Parse.ly in action?
See how you can make your content work for you.
What customers are saying
The ability to break things down by region—especially when cross-referenced against Parse.ly's range of metrics like users, engaged time, social referrals and interactions—is priceless.

Adam Blenford
Managing Editor of Digital in Europe, Bloomberg
We chose Parse.ly because it's so user-friendly, especially for an editor who wants to be able to report on how their content is doing right away.

Morgan Gibson
Senior Manager of Digital Content, WeddingWire
I love using Parse.ly. I'm engaged with the product everyday. It provides critical info and data to the organization and leadership. We leverage the output to make important decisions and manage the business.

Sean Giancola
CEO, New York Post